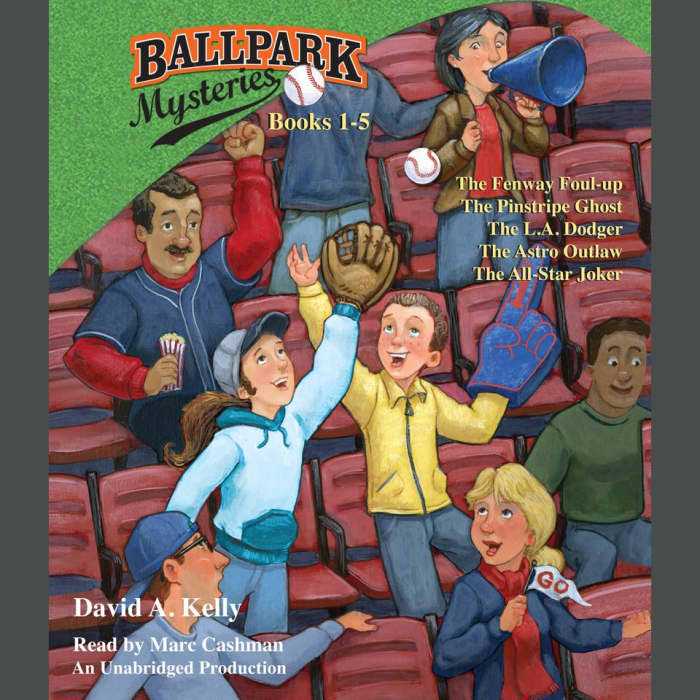 Ballpark Mysteries Collection: Books 1-5
#1 The Fenway Foul-up; #2 The Pinstripe Ghost; #3 The L.A. Dodger; #4 The Astro Outlaw; #5 The All-Star Joker
Ballpark Mysteries Collection: Books 1-5
#1 The Fenway Foul-up; #2 The Pinstripe Ghost; #3 The L.A. Dodger; #4 The Astro Outlaw; #5 The All-Star Joker
Why have one story when you can have five? This collection of tales is sure to hit a home run with young listeners as Mike and Kate investigate mysteries at the ballpark. From a star's stolen bat to Babe Ruth's ghost, can they get to the bottom of things — or will they strike out?
PUBLISHER DESCRIPTION
THE FENWAY FOUL-UP: Mike Walsh and Kate Hopkins are super-lucky. They have tickets to the Boston Red Sox game and all-access passes to Fenway Park. But during batting practice, the lucky bat that belongs to Big D, the star slugger of the Red Sox, is stolen!
THE PINSTRIPE GHOST: Mike and Kate are waiting for Kate's mom at a boring press conference in Yankee Stadium when the team official says...
Show more