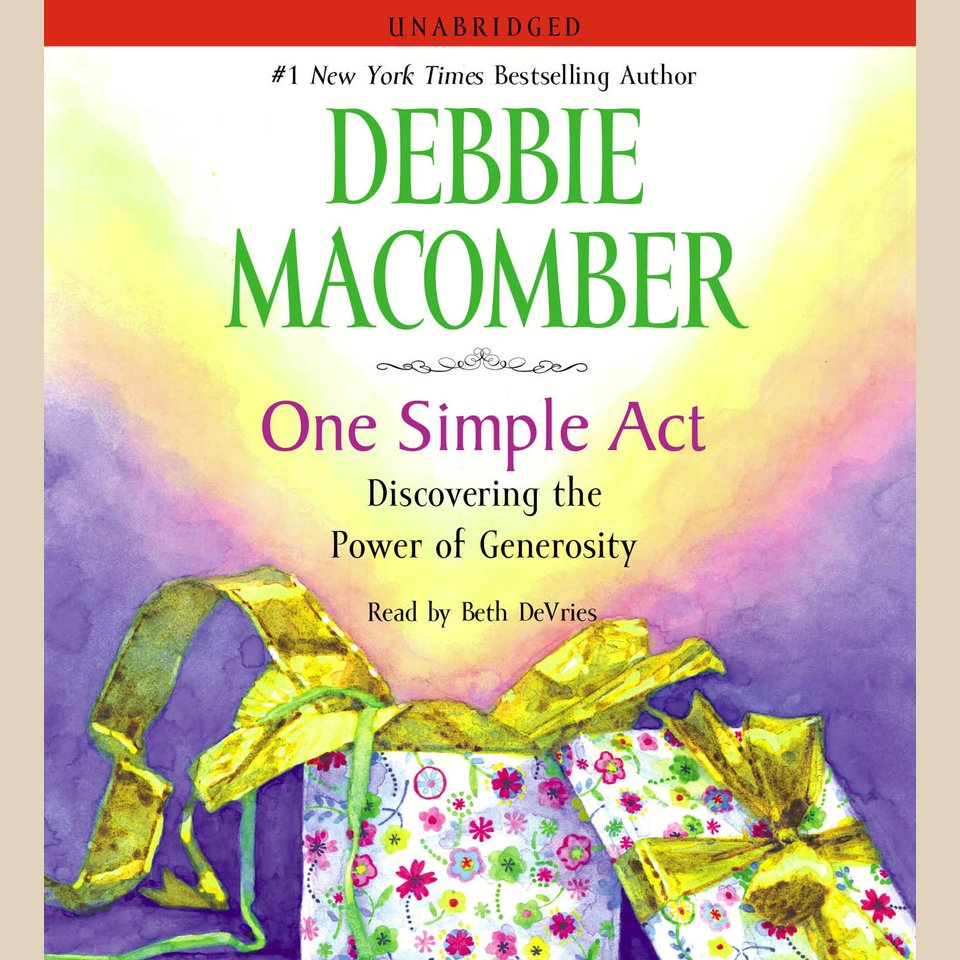 One Simple Act
Discovering the Power of Generosity
One Simple Act
Discovering the Power of Generosity
Want to change the world and hungry for a little inspiration? This listen from a #1 New York Times bestselling author explores how one simple act of generosity can work a miracle — and how the opportunities God presents can guide you toward making a life-changing difference.
PUBLISHER DESCRIPTION
What if you, personally, could make the world a better place…by tomorrow? Debbie Macomber knows the secret to doing exactly that! In a world that seems too often stingy and grudging, she has witnessed how one simple act of generosity can yield unforeseen miracles. You are about to discover, through true stories, what happens when we commit intentional acts of generosity. Lives are changed in ways we never envisioned. Come with Debbie late one evening through the checkout line at the grocery store. Discover the link between a submarine, a few bread crumbs, and some minnows. Visit ancient Galilee as a young boy volunteers his fishes and loaves to Jesus only to see his meager gift multiplied many times over to feed five thousand. You will stand amazed at what God accomplishes when we make ourselves available through simple acts of generosity. This blend of true stories and motivating messages will delight and surprise you as you discover how giving the gifts of time, encouragement, hope, laughter, prayer, hospitality, service and even forgiveness can have a lasting, life-changing impact, not only on the recipient of such gifts but on the giver as well. Debbie Macomber invites us to offer who we are and what we have to God, to use in the lives of others. When we do so, lives – including our own – are changed in ways we couldn't have imagined. All it takes is one simple act.
Categories:
Christian Fiction & Nonfiction
Release Date:
November 3, 2009
Publisher:
Simon & Schuster
Run time:
5 hours and 31 minutes